CryptoKG- Providing Trustworthy Crypto Trading for Users
CryptoKG provides tokenized crypto trading for users in over 140 countries.
Crypto trading has been gaining real traction among users from global nations. With the soaring popularity, the number of crypto firms and exchanges has also been rising.
However, new exchanges have a problem with reliability and trust. Especially during a time when crypto firms are struggling to survive, a trustworthy and robust platform is mandatory.
The safety of funds is one thing that the exchange should ensure for users. This is important as there have been incidents of exchanges closing down and running away with user funds.
Let us look at CryptoKG and why we consider it a reliable platform.
What is CryptoKG?
CryptoKG began its debut by providing crypto trading services in 2019. The exchange is based in the Grenadines. Even though the exchange is comparatively new, it offers its services in over 140 countries.
It is a licensed crypto exchange by the FCA that adheres to EU regulations. It provides a convenient tokenized stock market platform where buyers and sellers of crypto or tokenized assets may transact.
The platform has over 5000+ real-time active users. CryptoKG provides over 300 intuitive trading tools for users.
What does CryptoKG offer?
The platform not just provides crypto trading but also provides trading of tokenized assets, including indices, commodities, metals, and stocks.
CryptoKG intends to give access to over 10,000 distinct tokens, the value of which will be completely related to the present position in the traditional asset market.
The exchange intends to give investors access to crypto trading while limiting possible losses. It allows users to trade and possibly profit from the fluctuations in the prices of various stocks, cryptos, and indices.
CryptoKG also provides crypto trading with leverage ranging from 1 to 20. Moreover, the platform provides users with different types of accounts. Let us take a look at that.
Different types of accounts by CryptoKG
The trading platform encompasses a ranking system for accounts on the trading platform. Trading activities cannot be carried out without registering and KYC completion. Users will be given access to rates only after making a deposit of at least 500 USDT. 
The account is given the top ranking based on the deposits made by the users. The trader has access to additional possibilities and receives information support while doing trades as the status of the account rises. The system has six ranks, each of which adds a new function or enhances an existing feature. 
The account rises level by level based on the balance of the account. Let us take a look at them one by one.
Silver (500 USDT minimum deposit)
This is the most basic account on the exchange. The minimum term of investment will be six months. With this account, users will get access to 1:5 leverage. Users will also receive analytical reviews and materials in their mail.
Gold (5000 USDT minimum deposit)
Users get access to 15-minute consultations with an analyst once a week. Users will also get one risk-free trade and one trading signal every week. The minimum term of investment will be six months.
Platinum (25,000 USDT minimum deposit)
The minimum term of investment is 3 months. Users will get access to 24-hour customer service. They will also get two free 15-minute consultations per week with analysts. Users will get access to algorithmic trading, specialized assistance, examination of transaction history, and general and specialized counsel.
VIP (100,000 USDT minimum deposit)
You will get a personal financial advisor for analysis with this account. Users will get leverage of 1:10 and similar perks as the Platinum account. Additionally, users will get algorithmic trading access to two robots with pre-programmed parameters.
VIP+ (500,000 USDT minimum deposit)
With a minimum deposit of 500,000 USDT, users will get access to 1:20 leverage trading, unlimited trading signals, 4 risk-free trading positions, and also 2.5% monthly interest on their savings accounts. Automated trading robots are individually set up and do not come with predetermined algorithms.
Dragon (1,000,000 USDT minimum deposit)
Users will get access to 1:20 leverage trading, five risk-free trades, five customizable algorithmic trading robots, and the highest priority order execution.
Additionally, commissions for withdrawals and deposits will be zero, and users will get 3% monthly interest on their savings accounts.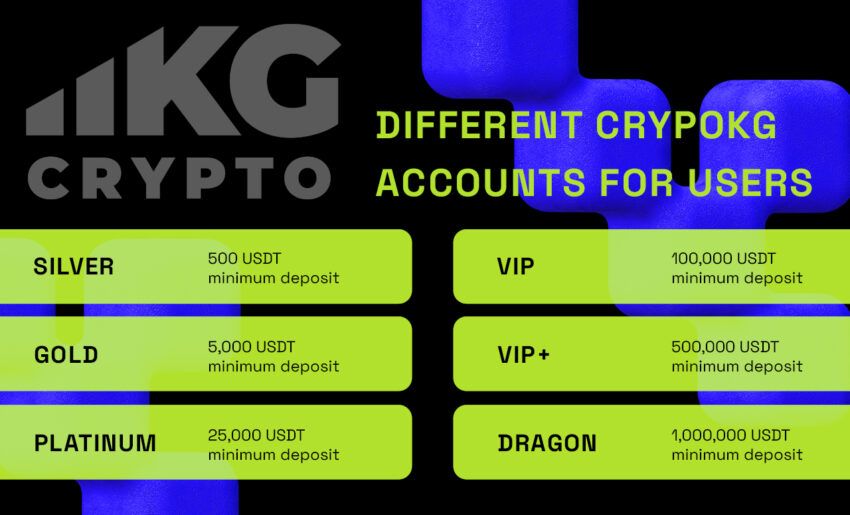 Final thoughts
CryptoKG has been providing trading services since 2019. The exchange is compliant with EU laws and provides a safe platform to trade on. The exchange follows KYC measures for users to sign up and use the platform.
The platform does provide various levels of accounts for various users. Traders have to be cautious while using leveraged trading as it can also possibly intensify the amount of funds that you gain and lose. With over 300 trading tools, a trustworthy platform, and availability in over 140 countries, CryptoKG could be your next ideal trading platform.
FAQ
Users can visit its website and submit their details to easily sign up. Make sure to complete your KYC to begin your trading journey.
The exchange stores the user's funds in cold wallets.
Users are not charged a commission for using the service. Other payment methods allow you to write off the commission.
CryptoKG provides users with six different types of accounts that vary depending on the deposit amount.
Website | Twitter | Facebook | Instagram | Medium | Youtube
Disclaimer
All the information contained on our website is published in good faith and for general information purposes only. Any action the reader takes upon the information found on our website is strictly at their own risk.